In the scorching heat of summer, a malfunctioning air conditioner can quickly turn your home into an unbearable oven. You need cool, refreshing relief from the oppressive heat, and that's where emergency AC repair services come to the rescue. Whether you're dealing with a sudden breakdown or a malfunction that's making your life uncomfortable, this guide will explore the importance of emergency AC repair, what to expect, and how to find the right professionals to get your cooling system back on track.
The Urgency of Emergency AC Repair
When your air conditioning system suddenly breaks down on a hot summer day, you find yourself in an uncomfortable predicament. High temperatures can not only affect your comfort but also pose health risks. It's during these moments that emergency AC repair becomes essential.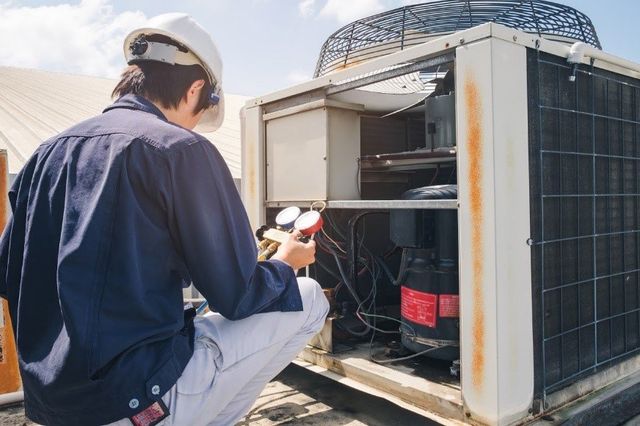 Identifying the Signs of AC Trouble
Before diving into the importance of emergency AC repair, it's crucial to recognize the signs that your cooling system is in distress. Often, early detection can prevent complete system failure and the need for an immediate repair. Some common signs of AC trouble include:
No Cool Air: If your AC is running but not delivering cool air, it's a clear indicator that something is amiss within the system.

Weak Airflow: Insufficient airflow can result from clogged filters, blocked ducts, or a malfunctioning blower.

Strange Noises: Unusual noises like rattling, banging, or screeching can indicate mechanical issues or loose components within the AC unit.

Odd Odors: Foul or musty odors could mean mold growth within the unit, while a burning smell is a sign of potential electrical problems.

Frequent Cycling: If your AC is constantly turning on and off, it might be struggling to maintain the desired temperature, which requires professional attention.

Leaks and Moisture: Excessive condensation or water pooling around the unit could be a sign of refrigerant leaks or clogged drainage.
Why Emergency AC Repair Matters
Now that you know how to identify when your AC needs attention, let's discuss why emergency AC repair is so crucial:
Comfort and Well-being: A malfunctioning AC system can make your home unbearably hot and uncomfortable, affecting your sleep and overall well-being. Emergency repairs ensure that you can enjoy a comfortable living environment promptly.

Health Concerns: Extreme heat can lead to health issues like heat exhaustion and heatstroke. Keeping your home cool and safe during a heatwave is a top priority.

Preventing Further Damage: Ignoring AC issues can lead to more extensive and costly repairs down the line. Quick response to issues helps prevent small problems from escalating.

Energy Efficiency: A malfunctioning AC unit consumes more energy while delivering less cooling. Emergency repairs can help restore energy efficiency, saving you money on utility bills.

Longevity of the System: Timely repairs can extend the life of your AC system, postponing the need for a costly replacement.
Conclusion
In the sweltering heat of summer, the importance of emergency AC repair cannot be overstated. Timely repairs not only keep you comfortable but also safeguard your health and prevent further damage to your cooling system. By recognizing the signs of AC trouble and acting promptly, you can ensure that your home remains a cool and inviting oasis even in the most scorching weather.
When it comes to emergency AC repair, it's crucial to find reputable professionals who can address your cooling system issues swiftly and effectively. Don't hesitate to reach out to a trusted HVAC service provider when you encounter AC problems, as their expertise and quick response can make all the difference in restoring comfort to your home during an AC emergency.